About Modern Beauty Bar Orlando
At Modern Beauty Bar we provide every customer with the latest luxury services and top quality products. From the moment a client walks in to receive their services they will feel a sense of relaxation and confidence with any procedure they are receiving. We strive to maintain our education and knowledge in all of the latest modern beauty treatments to enhance our clients natural beauty and elevate their level of confidence.
Stephanie Suarez
Founder/CEO
Founder/CEO, Master Brow & Lash Specialist
Licensed Medical Esthetician
Licensed Tattoo Artist
Blood Borne And Pathogens Certified
Certified In Microblading And Ombre Powdered Brows
Certified In Classic, Russian Volume, And Mega Volume Lash Extensions
With 7 years of beauty industry experience and working with high quality products Stephanie is a highly skilled professional ready to take your lashes, brows and skin to the next level. Her goal is to provide every client with the latest modern beauty treatments to enhance their natural beauty and elevate their level of confidence by providing flawless results.
Brandon Williamson
CFO / COO
With years of business & entrepreneur experience Brandon serves as the head of operations & finances at Modern Beauty Bar.
Brandon has served a pivotal role in fueling our Founder Stephanie's vision of Modern Beauty Bar from dream to reality. He has encouraged & supported her every step of the way to be able to provide clients with the latest & greatest beauty treatments.
Growing up business, real estate and finance always fascinated him. Being that he was able to watch and learn first hand what was possible from his father & grandfather, it was only natural to follow in their entrepreneurial footsteps.
Brandon brings a wealth of knowledge, support & balance to the modern beauty bar family. We are so thankful to have him on our team!
Dr. Azad
MD Plastic Surgeon
Dr. Kamran Azad, MD is considered one of Orlando's best plastic surgeons and one of the few plastic surgeons in Orlando and Central Florida with additional aesthetic fellowship training. DR Kamran Azad, MD provides first-class service and offers safe, sensible solutions for you. He'll listen to your needs and answer all of your questions.
Dr. Azad is Board Certified by the American Board of Plastic Surgery. He is an active member of the American Society of Plastic Surgery and the American Society of Aesthetic Plastic Surgery.
We at Modern Beauty Bar feel so proud and blessed to have Dr. Azad as part of our clinical team overseeing all of our patients plan of care!
Jade Neese
MSN, APRN, FNP-BC
Jade Neese, MSN, APRN, FNP-BC is an Advanced Practice Registered Nurse (APRN) who is certified by the American Nurses Credentialing Center and licensed in the state of Florida. Jade has been working in the medical field for over 7 years. She has her Bachelor of science in nursing degree from Daytona State College and obtained her Master of Science, FNP, from St. Thomas University in Miami. She has previously worked in oncology and hospice before finding her true passion in aesthetics. During her time in Oncology she received the Daisy Award for nurses that demonstrated extraordinary compassion, courage, and integrity in every situation.
Jade is known for her attention to detail, desire to learn new and breakthrough techniques, and delivering individualized results. She has completed years of aesthetic training from top injectors and surgeons across the United States. She has certifications for Botox, fillers, and for Comprehensive Injections from the American Academy for Injection Anatomy.
Growing up she had always loved skin care and makeup. From a young age she suffered from acne and vitiligo so she knows first hand how the skin can impact a person's self confidence. She believes that when you feel your best on the outside you have more confidence to go out and crush your goals. She works hard to design an individualized treatment plan for every client she sees. Jade truly wants the best for her clients and will take the time to educate them about the recommendations.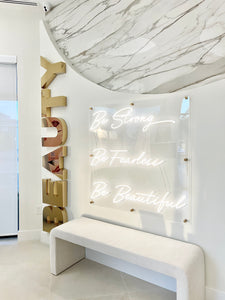 Modern Beauty At Its Finest
If you are looking for Medical Aesthetics, Microblading, Lash & Brow Services, Facials, IV Therapy, and more look no further than Modern Beauty Bar. By providing a variety of Medical Spa services to achieve your desired look we have quickly become Orlando's number one stop to enhance your natural beauty.
We also offer individualized trainings for Microblading and Eyelash Extensions for those individuals interested in starting their own Career in the industry. The courses are designed to introduce you to the art of Microblading and Classic Lashing, it also allows you the opportunity to learn the proper steps, rules/ regulations, and work on your first live model under the supervision of Stephanie herself. The course will allow you to learn, ask questions, and go over marketing tools to kick start your own business with the mentorship of Stephanie.
White Glove Service Guarantee
Our founder and provider Stephanie Suarez has over 7 years of experience in the beauty industry and with all the knowledge she has acquired, working with top professionals in the industry she was finally ready to open up her own business. She is passionate about the industry and highly skilled. She always maintains a high level of professionalism and customer service in her business. Her goal is to empower every single one of her clients to feel and look their best by providing beautiful and natural results with every procedure she does. Her best assets are her attention to detail and perfectionist attitude which in turn help her achieve flawless results.